here
on NPR.
They introduce the song about 10 minutes in, and the song starts at about the 11:40 mark.
You can listen to the studio version of "Feeling the Pull"


The interview is a good hour and a half long and definitely worth a watch.


Glen and Mar were on Kevin Pollak's chat show a couple of days ago. Painting, the madness of the Oscars, carpentry, picking mushrooms, a classic retelling of Glen's first time meeting Van Morrison, and the experience of playing Eunice Kennedy Shriver's funeral are a few of the things you'll hear.
Q
for a shortish interview and a performance of "In These Arms". You can download the podcast of the show
here
; their portion of the program starts at about 45:30 and goes to the end.
Today the Swell Season were on the CBC Radio show


Sun 01/11/2009 Pabst Theater Milwaukee WI
Mon 02/11/2009 Clowes Memorial Hall Indianapolis IN
Tue 03/11/2009 Massey Hall Toronto ON
Wed 04/11/2009 Olympia de Montreal Montreal QC
Fri 06/11/2009 Berklee Performance Center Boston MA
Sat 07/11/2009 Lupo's Providence RI
Sun 08/11/2009 Merriam Theater Philadelphia PA
Mon 09/11/2009 9:30 Club Washington DC
Thu 12/11/2009 House Of Blues New Orleans LA
Fri 13/11/2009 Warehouse Live Houston TX
Sat 14/11/2009 Palladium Ballroom Dallas TX
Sun 15/11/2009 Paramount Theatre Austin TX
Tue 17/11/2009 Mesa Arts Center . Ikeda Theter Mesa, AZ
Wed 18/11/2009 The Wiltern Los Angeles CA
Fri 20/11/2009 Paramount Theatre Oakland CA
Sun 22/11/2009 Paramount Theatre Seattle WA
Tue 24/11/2009 Crystal Ballroom Portland OR
Wed 25/11/2009 The Centre Vancouver BC
Fri 27/11/2009 The Egyptian Theatre Boise ID
Sat 28/11/2009 Jeanne Wagner Theater Salt Lake City UT
Sun 29/11/2009 Ogden Theater Denver CO
Mon 30/11/2009 Uptown Theater Kansas City MO
Tue 03/12/2009 Auditorium Theater Chicago IL
Fri 04/12/2009 The Pageant St Louis MO
Sat 05/12/2009 State Theater Minneapolis MN

Detailed presale info coming later according to The Frames board.

For now, all we know is: "presales start on the 9/9/09 apart from chicago and minneapolis when the presale date is 14th sept. salt lake city presale is tbc"
North American tour dates are all up now!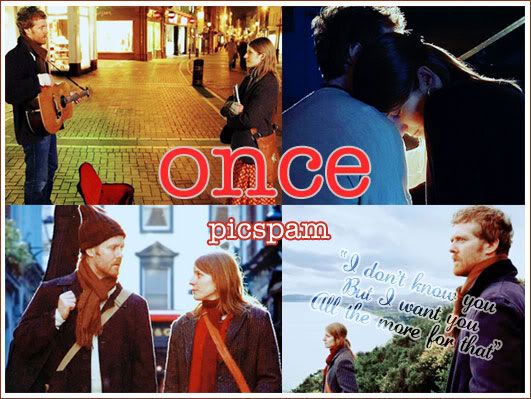 Click
here
to view a picspam for the lovely movie Once.

Warning: Pretty image heavy and obviously spoilers for the movie.

Current Music:

Everytime (Britney Spears Cover) by Glen Hansard
Title: Mourning for the Unspeakable
Author:
asphyxiate_muse aka.
ryukoishida
Part: Drabble
Genre: Romance
Rating: PG
Warning: None
Pairing: Glen Hansard/Marketa Irglova
Summary: It's out of her control (she may as well not have any where he's concerned) – the thoughts of him…
Word count: 309
Disclaimer: I don't own the movie, only the plot bunny.
A/N: Been inspired by kids in Book Camp, in which I'm volunteering at for the entire week. These 12 year-olds are pretty darn amazing.

It's times like these when she misses him the most.
Current Mood:

sleepy
Amazon has an album cover up for Strict Joy, as well as a
Glen Hansard and Marketa Irglova record and tour together using the name The Swell Season, which is a shorter but far less descriptive moniker than "Glen Hansard and Marketa Irglova, Who Won Oscars for the Song 'Falling Slowly,' From the Hit Indie Musical Once." So when we informed our coworkers that last Wednesday's Tiny Desk Concert would feature the pair, the response generally ran somewhere along the lines of, "Um, okay. ... Wait, who? THEM? REALLY?"

Hansard and Irglova stopped by our Washington, D.C., offices as a way of passing time between trips to New York and Denver, with the understanding that 1) we'd set up a keyboard for Irglova to play; and 2) they'd be expected to perform the standard three- or four-song Tiny Desk set. Both plans fell by the wayside quickly. The gigantic keyboard we'd provided would have been far more suitable had Irglova been a member of Emerson, Lake & Palmer, so they opted to scrap it and huddle up around Hansard's battered acoustic guitar. And three songs? Well, that wouldn't do. Hansard kept asking to play longer; not surprisingly, he met little resistance.
(
VIDEO & SET LIST BEHIND CUT FOR THOSE WHO WISH TO REMAIN SPOILER-FREE
Collapse
)
Glen & Mar recorded seven songs for NPR's Tiny Desk Concert series -- six new ones plus When Your Mind's Made Up. It's basically Glen on lead with Mar singing backing vocals.
Title: Wonder
Author:
asphyxiate_muse aka.
ryukoishida
Part: Drabble
Genre: Romance
Rating: PG
Warning: Slight angst.
Pairing: Glen Hansard/Marketa Irglova
Summary: He looked at her – the girl he thought he had loved, had lost, and then regained, only to realize that she was not the one at all.
Word count: 208
Disclaimer: I don't own the movie, only the plot bunny.
A/N: I still find it strange (but cool) that Glen and Marketa's characters in the film didn't have actual names. On imdb, they're merely referred to as 'Guy' and 'Girl'. It's quite amusing. Anyway, I just watched this movie yesterday, and I fell in love with it! So I decided to look up some fanfictions, but unfortunately found none. So here I am, contributing some. Hopefully, they're not too shabby.

He looked into her eyes – the girlfriend he remembered singing so bitterly about just a few months ago to a total stranger...

Current Music:

Falling Slowly - Glen Hansard & Marketa Irglova