Falling Slowly cover:



This is my boyfriend and one of my girlfriends :) I hope you enjoy it!
I just watched Once again, which made me think to post this. This is an old video, but I thought maybe the community would appreciate (what is probably yet another)
here
on NPR.
They introduce the song about 10 minutes in, and the song starts at about the 11:40 mark.
You can listen to the studio version of "Feeling the Pull"


The interview is a good hour and a half long and definitely worth a watch.


Glen and Mar were on Kevin Pollak's chat show a couple of days ago. Painting, the madness of the Oscars, carpentry, picking mushrooms, a classic retelling of Glen's first time meeting Van Morrison, and the experience of playing Eunice Kennedy Shriver's funeral are a few of the things you'll hear.
Q
for a shortish interview and a performance of "In These Arms". You can download the podcast of the show
here
; their portion of the program starts at about 45:30 and goes to the end.
Today the Swell Season were on the CBC Radio show


Sun 01/11/2009 Pabst Theater Milwaukee WI
Mon 02/11/2009 Clowes Memorial Hall Indianapolis IN
Tue 03/11/2009 Massey Hall Toronto ON
Wed 04/11/2009 Olympia de Montreal Montreal QC
Fri 06/11/2009 Berklee Performance Center Boston MA
Sat 07/11/2009 Lupo's Providence RI
Sun 08/11/2009 Merriam Theater Philadelphia PA
Mon 09/11/2009 9:30 Club Washington DC
Thu 12/11/2009 House Of Blues New Orleans LA
Fri 13/11/2009 Warehouse Live Houston TX
Sat 14/11/2009 Palladium Ballroom Dallas TX
Sun 15/11/2009 Paramount Theatre Austin TX
Tue 17/11/2009 Mesa Arts Center . Ikeda Theter Mesa, AZ
Wed 18/11/2009 The Wiltern Los Angeles CA
Fri 20/11/2009 Paramount Theatre Oakland CA
Sun 22/11/2009 Paramount Theatre Seattle WA
Tue 24/11/2009 Crystal Ballroom Portland OR
Wed 25/11/2009 The Centre Vancouver BC
Fri 27/11/2009 The Egyptian Theatre Boise ID
Sat 28/11/2009 Jeanne Wagner Theater Salt Lake City UT
Sun 29/11/2009 Ogden Theater Denver CO
Mon 30/11/2009 Uptown Theater Kansas City MO
Tue 03/12/2009 Auditorium Theater Chicago IL
Fri 04/12/2009 The Pageant St Louis MO
Sat 05/12/2009 State Theater Minneapolis MN

Detailed presale info coming later according to The Frames board.

For now, all we know is: "presales start on the 9/9/09 apart from chicago and minneapolis when the presale date is 14th sept. salt lake city presale is tbc"
North American tour dates are all up now!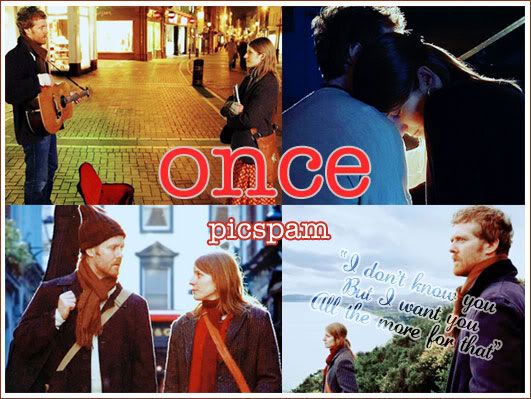 Click
here
to view a picspam for the lovely movie Once.

Warning: Pretty image heavy and obviously spoilers for the movie.

Current Music:

Everytime (Britney Spears Cover) by Glen Hansard
Title: Mourning for the Unspeakable
Author:
asphyxiate_muse aka.
ryukoishida
Part: Drabble
Genre: Romance
Rating: PG
Warning: None
Pairing: Glen Hansard/Marketa Irglova
Summary: It's out of her control (she may as well not have any where he's concerned) – the thoughts of him…
Word count: 309
Disclaimer: I don't own the movie, only the plot bunny.
A/N: Been inspired by kids in Book Camp, in which I'm volunteering at for the entire week. These 12 year-olds are pretty darn amazing.

It's times like these when she misses him the most.
Current Mood:

sleepy
Amazon has an album cover up for Strict Joy, as well as a